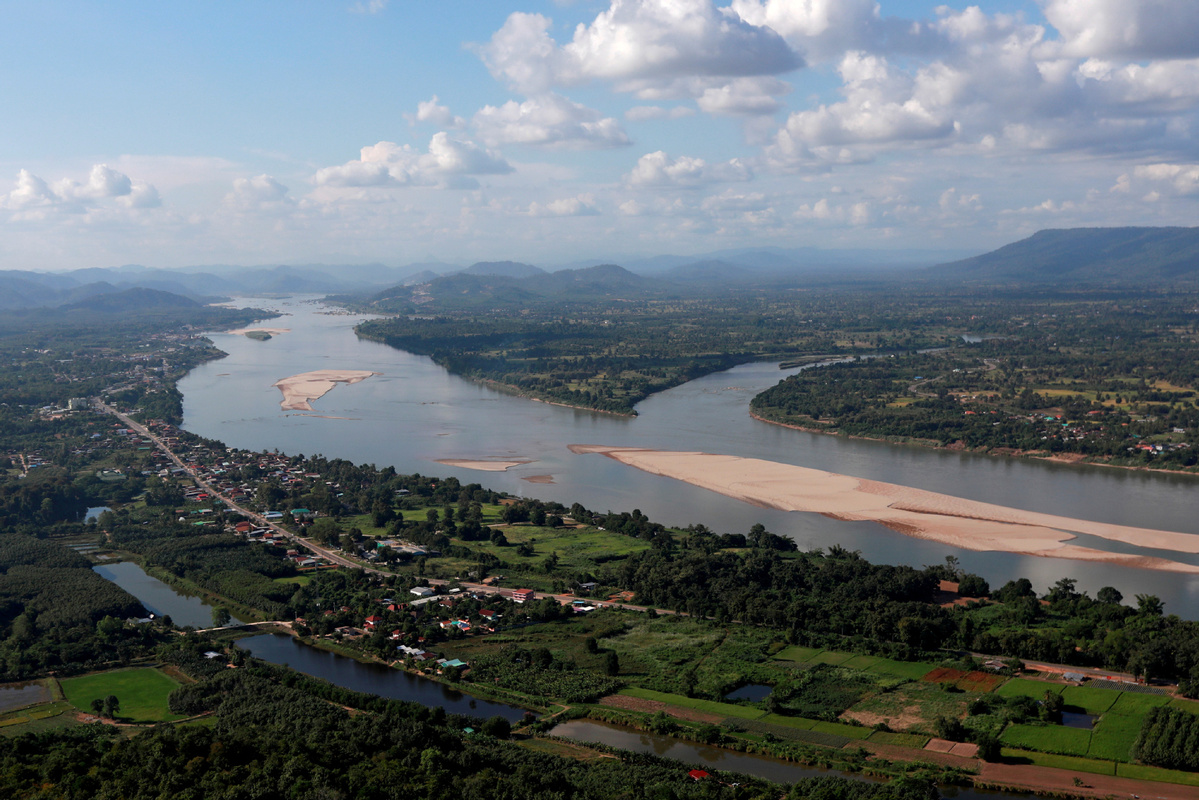 Diplomatic envoys from Cambodia, Laos, Myanmar, Thailand and Vietnam have highly commended the Lancang-Mekong water resource cooperation with China in recent years, saying the cooperation mechanism set up in 2016 helps countries work together to ensure water security in the river basin and promote sustainable development.
They made the remarks after visiting the Nuozhadu and Jinghong hydropower stations built on the Lancang River in Yunnan province from Monday to Wednesday. They recognized the role of reservoirs on the Lancang River in regulating flood and replenishing drought, and called for closer collaboration in water resource management to benefit people from LMC countries.
While taking part in a symposium of the 2021 Lancang-Mekong Cooperation Week Activity on Water Resources co-hosted by the LMC Water Center and Huaneng Lancang River Hydropower Inc in Jinghong, Yunnan province on Wednesday, they exchanged their views about the water resource cooperation with Chinese officials, experts and hydropower plant executives.
Speaking at the symposium, Zhong Yong, head of the Joint Working Group on Water Resources Cooperation of LMC from China, said over the past five years, water resources and foreign affairs departments of the six Lancang-Mekong countries have treated each other with candor and sincerity, joined together for water resource management and responded to water challenges in the river basin.
They have a strong desire to further deepen practical cooperation in the field of water resources, and have reached a consensus that issues related to the Lancang-Mekong river basin should be handled through consultations by themselves, said Zhong, also the consul of the Department of International Cooperation, Science and Technology at the Ministry of Water Resources.
Sreng Sataro, minister counselor of the Cambodian Embassy in China, said the LMC has been an essential solidarity framework to maintain regional peace and stability and promote shared prosperity and people-to-people exchanges in the region.
Since the establishment of the LMC Water Center in 2017, cooperation in technical exchanges, drought and flood management, data and information sharing, capacity building, joint research and analysis have been comprehensively enhanced, he said.
Thongsavanh Phyathep, minister counselor of the Lao Embassy in China, said the LMC has benefited countries' socioeconomic development and helps them achieve the United Nations Sustainable Development Goals including poverty reduction, clean water and sanitation, affordable and clean energy as well as sustainable cities and community.
Laos stands ready to work with China and other Mekong countries to realize LMC water resource cooperation as a one of five priority areas, he added.
Mongkol Visitstump, consulate general of Thailand in Kunming, Yunnan province, thanked China for its role in contributing to the LMC special fund for executing more than 500 development projects, as well as its sharing of year-round data of water in Lancang-Mekong river to other countries.
"This helps enhance trust building and facilitate effective water management of all downstream countries in Mekong River, our shared river, for the benefit of not only for waterway transportation but also water uses for other purposes, including agriculture for the benefits of all people," he said.
Htun Htun Oo, second secretary of the Myanmar Embassy in China, said the Lancang-Mekong River Basin faces escalating difficulties from flooding and drought, both of which are becoming more frequent and intense because of climate change.
"We recognized China has always tried to regulate the Lancang River reservoirs to ensure downstream water demand during both dry seasons and floods," he said.
Nguyen Minh Tuan, first secretary of the Vietnamese Embassy in China, said over the past five years, LMC has been gradually growing and witnessed substantive development in various areas.
He mentioned what he saw during the visit in the cities of Pu'er and Jinghong – megaproject hydropower plants with cutting-edge technologies, as well as how local people take care of the surrounding environment in the process of economic development.
"These are all the fruits of China's reform and opening-up under the leadership of the Communist Party of China, which celebrates the 100 anniversary of its founding this year," he said.
The LMC consists of six countries — China, Cambodia, Laos, Myanmar, Thailand and Vietnam. The Lancang River originates on the Qinghai-Tibet Plateau in northwestern China. It is called the Mekong River as it flows through the other five countries before emptying into the sea.